Hi everybody,
yes we are still alive - hart to believe but its true. We are very sorry that the blog/news section was inactive since new year. But we were all very busy with private stuff and and I have my wisdom teeth out since last friday - 3 teeths hell yeah

In addition, I am also more concerned with LPLive.net - new big projects. But we try to be more active - promised !
The next thing - SuperGroup is too expansiv for us. Its nice to have the functions for the blog - skins & features but it costs to much for someone who paid it alone and donate points is difficult - because we need about 4,800 dA Points

and we don't know who is willing to donate points

But let see what happen

To the News....
Chester Joins Stone Temple Pilots
In a move that has caught seemingly everyone from the Linkin Park fanbase to the Stone Temple Pilot fanbase to music fans in general off guard, Chester joined the Stone Temple Pilots on stage at the 2013 KROQ Weenie Roast in Irvine, CA as the lead singer for the band. The band was the "surprise guest" of the show, similar to what Foo Fighters did to Linkin Park in 2011 at the show - showing up and playing unannounced as a surprise. A timed release of a brand new song "Out Of Time" to KROQ followed the performance, with STP issuing a press release and Chester even confirming that he hasn't left Linkin Park.
KROQ.com
adds:
"If seeing is believing, the audience at Weenie Roast 2013 definitely left as believers in the power of music. The unbelievable magic of the night was doubly-amplified after all the amazing sets earlier when sonic swamis of alt-stadium rock, Stone Temple Pilots, brought Chester Bennington from Linkin Park out as a featured vocalist."
SETLIST:
01. Vasoline
02. Big Bang Baby
03. Wicked Garden
04. Sex Type Thing
05. Out Of Time (Live Debut)
06. Interstate Love Song
07. Dead And Bloated
08. Trippin' On A Hole In A Paper Heart
A few songs of the webcast can be found below.
They have debuted a new single "Out Of Time". Listen to the full song and even download a copy for yourself
here
. The
STP website
has been updated with a full press release by the band as well as pictures of the guys and Chester.
What do you think of Chester joining Stone Temple Pilots?
Edit:
Here is a video of the new song 'Out Of Time' live from the Weenie Roast show:
Chester has confirmed that he is now the lead singer of Stone Temple Pilots and Linkin Park. Also they are considering an album and tour.
Video here
. Source LPlive.net & ChesterBNetwork.
Exclusive LPLive.net: Chiba, JP 2011-09-11 (FLAC & MP3)
It's May and that means it's time for another LPLive media release!
Quoting what I said on the Chester IEM release last month, "if you're a collector of live audio from Linkin Park's live career, you'll know that some of the best shows are the ones from Japan. Tokyo 2001, Tokyo 2003, Yokohama 2003, Osaka 2006, etc."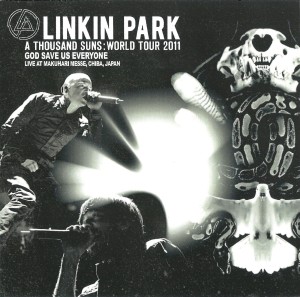 For this exclusive, we decided to post the full recording from Linkin Park's night 2 in Tokyo on September 11, 2011. This show was a part of LPU Summit #5, which encompassed both shows in Tokyo (specifically Chiba). The Chester IEM contains songs from night 1 (which we will release soon), but this is the full night 2 show. LPLive staff member [AndOne] calls this, in his opinion, the best recording of the A Thousand Suns World Tour.
[DOWNLOAD]
FLAC
mp3 (320 kb/s)
Enjoy!
Mike and Joe Talk About 6th Album with Fuse
In a recent Interview with FUSE. Mike and Joe spoke about being "In the mix" and teases new music on new upcoming LPTV's In "the next couple of months."
LP Tour 2013... Tourdates as far
03.08.2013 West Hollywood, CA United States Outside the Key Club Sunset Strip Music Festival

Asian Tour

10.08.2013 Tokyo, JP Japan QVC Marine Field Summer Sonic
11.08.2013 Osaka, JP Japan Maishima Summer Sonic Site Osaka Summer Sonic
13.08.2013 Pasay City, PH Philippines Mall of Asia Arena
15.08.2013 Chek Lap Kok, HK Hong Kong Asia-World Arena
17.08.2013 Taipei, TW Taiwan Taipei Arena
more coming soon...